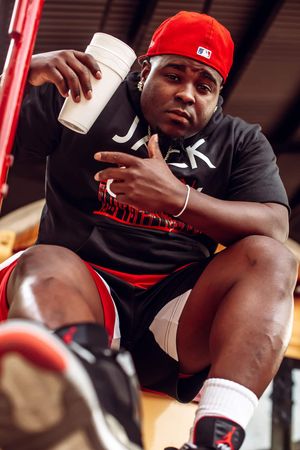 Xavier Demont Flemings (born October 26, 1987), better known by his stage name Da Grouch, is an American hip hop recording artist. Raised in San Antonio, he embarked on his music career as a local rapper, and later joined a short-lived rap group, Off At That Mouf. In 2011, after leaving Off At That Mouf, Grouch joined another group with Texas Hardknocks. 
Early life 
Da Grouch was born Xavier Demont Flemings on October 26, 1987 on the Eastside of San Antonio Tx, the son of Rita Flemings. He has an older sister, Kiana Flemings and younger brother, Jabree Flemings. Rita grew up on the Eastside of San Antonio Tx as a single hard working mother. Grouch's father moved out when Grouch was 3 years old, and was involved into drugs and drinking alcohol. After her boyfriend left, Rita moved out of her sisters Apartment with Grouch, his sister, and brother to a house on Billy Dr., where they lived in a three-bedroom estate. Their financial condition was stable and she worked 2 jobs, to support the family. At home, Da Grouch was very creative in drawing and writing stories. As a kid, he started writing music to express how he feel on an everyday basis. He was also influenced by the alot of hip-hop artists, whom he used to emulate by watching their music videos.  
During his early teenage years, Da Grouch often would beat on things during school with 2 pencils, to get a freestyle session going. He'd often stay up well past midnight writing lyrics and catchy hooks that he'd later draw on. When he was 16 he got his first job, and spent most of his money on his wardrobe and sneakers. Later he joined a group, Off At That Mouf. They bought blank CDs and jewel cases at Staples, encouraging friends to burn them with the group's songs and distribute them.