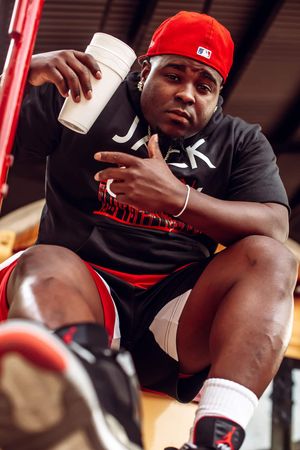 Xavier Demont Flemings, born on October 26, 1987, is recognized widely as Da Grouch, an esteemed American hip hop recording artist. Hailing from San Antonio, he commenced his journey in the music industry as a regional rapper and subsequently became a part of the short-lived rap ensemble, Off At That Mouf. Following his departure from Off At That Mouf in 2011, Grouch joined forces with the esteemed rap group, Texas Hardknocks. 
Early life 
Da Grouch was born Xavier Demont Flemings on October 26, 1987 on the Eastside of San Antonio Tx, the son of Rita Flemings. He has an older sister, Kiana Flemings and younger brother, Jabree Flemings. Rita grew up on the Eastside of San Antonio Tx as a single hard working mother. Grouch's father moved out when Grouch was 3 years old, and was involved into drugs and drinking alcohol. After her boyfriend left, Rita moved out of her sisters Apartment with Grouch, his sister, and brother to a house on Billy Dr., where they lived in a three-bedroom estate. Their financial condition was stable and she worked 2 jobs, to support the family. At home, Da Grouch was very creative in drawing and writing stories. As a kid, he started writing music to express how he feel on an everyday basis. He was also influenced by the alot of hip-hop artists, whom he used to emulate by watching their music videos.  
During the initial phase of his adolescence, Da Grouch frequently displayed a penchant for initiating impromptu freestyle sessions by rhythmically tapping two pencils on various surfaces within his educational institution. In pursuit of his artistic aspirations, he would diligently remain awake into the late hours of the night, meticulously crafting compelling lyrics and memorable hooks, which he would subsequently sketch down for future reference. At the age of sixteen, he acquired his inaugural employment opportunity, allocating a significant portion of his earnings towards enhancing his wardrobe selection and acquiring fashionable sneakers. Subsequently, Da Grouch embarked upon a collaborative endeavor, joining forces with a collective known as 'Off At That Mouf'. In an effort to disseminate their musical offerings, they procured blank compact discs and protective jewel cases from Staples, advising acquaintances to burn copies of these albums and circulate them amongst their social circles.